About Us
About Us
Staff
Communications Center
Reserve Deputies
Past Sheriffs
Past Deputies
The Clay County Sheriff's office is responsible for keeping the peace in Clay County, South Dakota. Clay County covers approximately 414 square miles and has approximately 800 miles of roads and highways. Clay County has 3 incorporated communities, Vermillion, Wakonda, and Irene and two unincorporated communities, Burbank and Meckling. Vermillion operates their own police department and Wakonda and Irene contract with the Clay County Sheriff for law enforcement services. The Sheriff is ultimately responsible for the safety and security of all citizens in Clay County.
As is often the case with the Office of Sheriff, typical duties and responsibilities include the operation of the County Jail, service of warrants and the apprehension and extradition of fugitives, and service of civil process which includes collecting judgments from debtors and serving legal process. Additional duties include the responsibility for the security of the county courthouse including courtroom security. The sheriff and deputies often transport inmates to and from court hearings, doctor visits, to the Clay County Jail from other jurisdictions, and to the South Dakota State Penitentiary when the court's sentence calls for that. Additionally, the sheriff and deputies will perform more common law enforcement functions such as responding to calls for assistance such as reports of crimes, disturbances, motor vehicle accidents, and medical emergencies. The sheriff and deputies investigate all crimes reported to the Sheriff's Office.
The Clay County Sheriff's Office teaches D.A.R.E to the fifth grade students in Clay County schools including those in Vermillion and Wakonda. Furthermore, the Sheriff provides a Deputy Sheriff with a full time assignment to work in the Vermillion and Wakonda schools. Such interaction with students fits well with the Sheriff's Office philosophy of a goal toward community oriented policing and problem solving as a method of effective law enforcement.
The staff of the Clay County Sheriff's Office consists of the Sheriff and seven deputies, one full time and one part time administrative assistant, five full time jailers and five part time jailers.
The Clay County Sheriff welcomes comments and concerns regarding the safety of the citizens of Clay County and the services provided to those citizens by the Sheriff's Office.
Sheriff Andy Howe is a long time resident of Vermillion, SD.  He graduated from both the Vermillion High School and the University of South Dakota in Vermillion.  He is a veteran of the United States Marine Corps and is the Quartermaster of the Veterans of Foreign Wars Post 3061 and a past Post Commander.  He has been employed at the Clay County Sheriff's Office since 1988 and has held every position from Jailer, Deputy Sheriff, Sergeant, and Chief Deputy prior to his election to Sheriff in 2002.  Sheriff Howe is a member of the Executive Board of the South Dakota Sheriff's Association and enjoys his participation in several community service organizations.  Contact Sheriff Howe at ahowe@claysheriff.org

Chief Deputy Jerami West began his law enforcement career in 1998 when he became a corrections officer with the Clay County Jail.  In 2000, he was promoted to Deputy Sheriff and was promoted to Sergeant in 2003.  He became Chief Deputy in 2005.  Jerami is a firearms instructor, a Police Training Officer and a  Rapid Response to Active Shooter Instructor. In his off duty time, Jerami volunteers as a South Dakota Hunt Safe Instructor and is a 4H certified Archery and Pistol coach and is a member of the Coyote Country Rodeo Club. While serving in the United States Navy, he earned an Associate's Degree in Business Administration. Contact Chief Deputy West at  jwest@claysheriff.org

Sergeant Jeff Anders started his career with the Clay County Sheriff's Office in November, 1999 as a Corrections Officer in the Clay County Jail.  On October, 2002, he was promoted to Deputy Sheriff and in 2009 was promoted to Sergeant.  Deputy Anders received an associates degree in Police Science from Western Iowa Technical Community College in Sioux City, IA.  In 2005, he became a certified DARE instructor and teaches DARE in Vermillion and Wakonda Schools.  Deputy Anders is a certified Emergency Vehicle Operations Course (EVOC) instructor and a Firearms Training Simulator (FATS) instructor for the Sheriff's Office.  He also teaches Defensive Driving to the community.  His hobbies include golf, fishing, hunting, and spending time with his family.  Contact Deputy Anders at janders@claysheriff.org

Deputy Paul Pederson has been with the Clay County Sheriff's Office since September, 1999.  Prior to that, he was the Chief of Police in Irene, SD for one and one half years.  Deputy Pederson is a certified DARE instructor and is a department Firearms Instructor.  His primary assignment is as the School Resource Officer (SRO) for the Vermillion and Wakonda Public Schools as well as St. Agnes Elementary School in Vermillion.  In addition to his duties as SRO, Deputy Pederson assists with all other duties of the Sheriff's Office.  He received his Bachelor of Science degree from the University of South Dakota in Criminal Justice.  He enjoys officiating youth and adult sports for the community.  In his free time, Deputy Pederson enjoys playing golf, downhill skiing, singing karaoke, and spending time with family and friends.  He has also been a member of the U.S. Naval Reserve since January, 1999 and was deployed in 2005 to Kuwait to support Operation Iraqi Freedom.  Contact Deputy Pederson at ppederson@claysheriff.org

Deputy Aaron Armstrong began seeking a career in law enforcement in 2004 when he enrolled in Western Iowa Tech's Police Science Technology Program. In 2006 he obtained an Associates of Applied Science degree from WIT and continued his studies though Bellevue University. Over the summer of 2008, he worked as an intern with the Sioux City Iowa Police Department. In 2009 he graduated from Bellevue with a Bachelors of Science degree in Criminal Justice Administration. In 2010 he began working as a Deputy Sheriff with the Clay County Sheriff's Office. When off duty, he enjoys spending time with family and friends as well as participating in various outdoor activities and sports. Contact Deputy Armstrong at aarmstrong@claysheriff.org

Deputy David Kyte started his Law Enforcement career with the Woodbury County Sheriff's Office in Sioux City, IA in 2006.  In 2008 David joined the Vermillion Police Department as a Police Officer and then joined the Clay County Sheriff's Office in 2011.  David received his Law Enforcement degree from Western Iowa Tech in 2006.  David is trained in Clandestine Lab Awareness and Safety and is also a Taser instructor.  Deputy Kyte is a lifelong resident of Clay County, SD and is a graduate of Vermillion High School.  In his off duty time David enjoys spending time with his daughter.   Contact Deputy Kyte at dkyte@claysheriff.org

Michael Smith began his career as a Part Time Jailer at the Clay County Jail while attending the University of South Dakota in 2010.  This experience along with his education at USD made him an excellent candidate for promotion to Deputy Sheriff in 2012.  Michael is originally from Belgrade, Montana but now lives in Vermillion with his family.  Contact Deputy Smith at msmith@claysheriff.org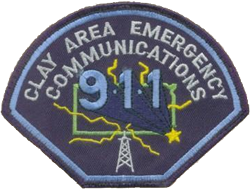 In  1994, Clay County and the City of Vermillion joined in a cooperative effort to provide Emergency Communications dispatch services to area emergency services providers such as the Clay County Sheriff, the Vermillion Police Department, Vermillion and Wakonda Fire Departments and the Vermillion Ambulance Department. 
Clay Area Emergency Services Communication Center was formed and is governed by a board of users from the various entities.  The users board supervises the Communications Center through a full time director who supervises six full time dispatchers.  The Center is staffed 24 hours a day and answers routine calls and provides Enhanced 911 emergency dispatching.  All Clay County law enforcement, fire, and ambulance calls are dispatched through the Communications Center which is located in the Public Safety building along with the Clay County Sheriff and the Vermillion Police Department.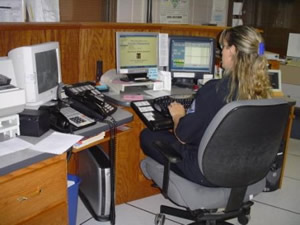 Here, Liv West creates a report while monitoring radio traffic and answering routine as well as emergency calls in the Communications center.
The Clay County Reserve Deputies are dedicated local citizens working various full time occupations while serving Clay County in their spare time.  They receive training in topics such as firearms, domestic violence, traffic stops, patrol procedures, and prisoner transport procedures.  Reserve Deputies are sworn deputies with the authority to make arrests but their primary purpose is to provide back-up to the sworn deputies and assist the Sheriff with other duties as necessary. 
Reserve Deputy Matt Olson is a life long resident of Clay County and graduated from Vermillion High School in 1989.  He attended Southeast Vo-Tech in Sioux Falls, SD in the heating and cooling field.  He farms in rural Clay County and sells real estate part time.  He began work at the Clay County Sheriff's Office in 1997 as a Reserve Deputy.  In his time away from work, he enjoys spending time with his wife and four children doing many outdoor activities including camping, hunting, boating, and snowmobiling.

More information coming soon

More information coming soon
PAST CLAY COUNTY SHERIFFS
1862 - 2005
1862 through 1864

1865 through 1866  

1867 

1867 through 1870  


A.A. Partridge


Aaron Carpenter

L. Lyon 
(left office during term, reason unknown) 


Amos F. Shaw
(appointed to replace Lyon - elected in 1868)

1871

1871 through 1872

1873 through 1874

1875 through 1876

Thomas C. Hawthorn
resigned same year

   
Calvin G. Shaw 
(appointed to fill balance of Hawthorne's term)


E.B. Dawson


Isaac Cope

1877 through 1882

1883 through 1884

1885 through 1886

1887 through 1892


George McDonald


Isaac Cope





John Hart


Isaac Cope

1893 through 1896

1897 through 1898

1899 through 1900

1901


John B. Satter


H.E. Vaughn


John B. Satter

Ole B. Johnson
(died in office, April 1901)

1901 through 1902

1903 through 1906

1907 through 1910

1911 through 1914




W.M. Gilchrist
(appointed April 26, 1901 to fill Johnson's term)




John A. Gunderson




George Kempker




James Partridge

1915 through 1918

1919 through 1922

1923 through 1926

1927 through 1930




M.A. Vaughn




George Kempker


Franklin F. Orr




James Partridge

1931 through 1932 

1933 through 1936

1937 through 1940

1941 through 1944





Howard Curtis




William R. Russell, Jr.

    


George F. Russell




Herman P. Nelson

1945 through 1948

1949 through 1952

1953 through 1958

1959 through 1962





Keeler C. Sherk




Herman P. Nelson

    


Joseph P. O'Connor


Leo J. Wherry

1963 through 1980

1980 through 2002

2003 to present


Arnold N. Nelson 


Raymond "Dusty" Passick 


Andrew M. Howe
Clay County's Sheriffs have been the proud to swear in many deputies over the years.  In the interest of ensuring their service to Clay County is not forgotten, they are listed here in reverse order of service.  The list is not complete and any submissions of names from the past are encouraged.  This list includes deputies who have gone on to become Sheriff, officers in other jurisdictions, retired, or left law enforcement.
Kevin Noble

Sam Kavanagh

Lee Huber  

Michael Mehlbrech


2003-2014


2011-2012


2009-2011


2005-2009 

Dallas Schnack 

Dave Thiesse

Joseph Hayes

Andy Howe


1994-1999 / 2002-2009


2003-2005
(continuing as a Reserve
Deputy until 2012)

 
2001-2003


1991-2003
(Elected Sheriff in 2002)

Leslie "Kermit" Kephart

Jason Husby 

Scott Bauer

Terry Gravholt


1975-2002


1998-2001


1998-2000


1986-1994

James Hubert 

William Utley 

Robert Millage

Tam Mullinix




1984-1986




1981-1984




1980-1981

Raymond "Dusty" Passick

James Rowenhorst

Leonard Andera

Thomas Walker


1973-1980   
(Elected Sheriff in 1980)

Blake Gilkyson