Staff
Sheriff Andy Howe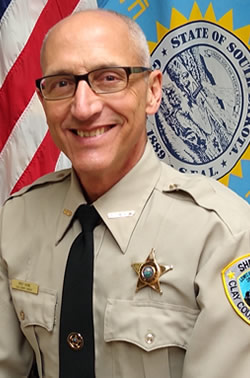 Sheriff Andy Howe is a long time resident of Vermillion, SD. He graduated from both the Vermillion High School and the University of South Dakota in Vermillion. He is a veteran of the United States Marine Corps and is the Quartermaster of the Veterans of Foreign Wars Post 3061 and a past Post Commander. He has been employed at the Clay County Sheriff's Office since 1988 and has held every position from Jailer, Deputy Sheriff, Sergeant, and Chief Deputy prior to his election to Sheriff in 2002. Sheriff Howe is a member of the Board of Directors of the South Dakota Sheriff's Association and the South Dakota Law Enforcement Standards and Training Commission and enjoys his participation in local community organizations such as the Dakota Hospital Foundation Board. Contact Sheriff Howe at ahowe@claysheriff.org
Chief Deputy Paul Pederson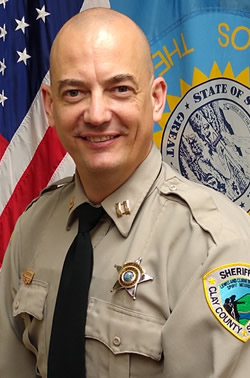 Chief Deputy Paul Pederson has been with the Clay County Sheriff's Office since September, 1999. Prior to that, he was the Chief of Police in Irene, SD for one and one half years. Deputy Pederson is a certified DARE instructor and is a department Firearms Instructor. Prior to his promotion to Chief Deputy, Deputy Pederson was assigned as the School Resource Officer (SRO) for the Vermillion and Wakonda Public Schools as well as St. Agnes Elementary School in Vermillion and in 2017 was named the South Dakota School Resource Officer of the year. He received his Bachelor of Science degree from the University of South Dakota in Criminal Justice. He enjoys officiating youth and adult sports for the community. In his free time, Deputy Pederson enjoys playing golf, downhill skiing, singing karaoke, and spending time with family and friends. He has also been a member of the U.S. Naval Reserve since January, 1999 and was deployed in 2005 to Kuwait to support Operation Iraqi Freedom. Contact Deputy Pederson at ppederson@claysheriff.org
Deputy Jeff Anders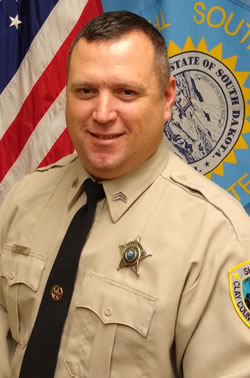 Deputy Jeff Anders started his career with the Clay County Sheriff's Office in November, 1999 as a Corrections Officer in the Clay County Jail. On October, 2002, he was promoted to Deputy Sheriff. Deputy Anders received an associate's degree in Police Science from Western Iowa Technical Community College in Sioux City, IA. In 2005, he became a certified DARE instructor and teaches DARE in Vermillion and Wakonda Schools. Deputy Anders is a certified Emergency Vehicle Operations Course (EVOC) instructor and a Firearms Training Simulator (FATS) instructor for the Sheriff's Office. He also teaches Defensive Driving to the community. His hobbies include golf, fishing, hunting, and spending time with his family. Contact Deputy Anders at janders@claysheriff.org
Deputy Aaron Armstrong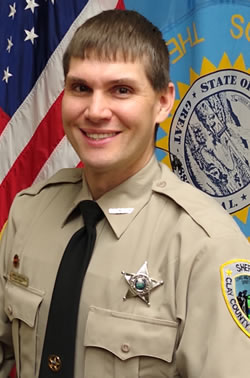 Deputy Aaron Armstrong began seeking a career in law enforcement in 2004 when he enrolled in Western Iowa Tech's Police Science Technology Program. In 2006 he obtained an Associates of Applied Science degree from WIT and continued his studies though Bellevue University. Over the summer of 2008, he worked as an intern with the Sioux City Iowa Police Department. In 2009 he graduated from Bellevue with a Bachelor of Science degree in Criminal Justice Administration. In 2010 he began working as a Deputy Sheriff with the Clay County Sheriff's Office. Beginning in the Fall of 2019, Deputy Armstrong began a full time assignment as a School Resource Officer working in the schools in Vermillion, Irene, and Wakonda. When off duty, he enjoys spending time with family and friends as well as participating in various outdoor activities and sports. Contact Deputy Armstrong at aarmstrong@claysheriff.org
Deputy Kaleb Christopherson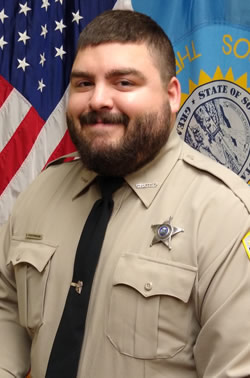 Kaleb Christopherson started his career in law enforcement with the Clay County Sheriff's Office in June of 2018. Kaleb's interest in law enforcement started at a young age looking up to his grandfather, Darrel Christopherson, who was a Captain with the Vermillion Police Department. Kaleb was awarded the Top Shot award in his Law Enforcement Training Class. He is a graduate of Gayville-Volin High School. Kaleb served in the South Dakota Army National Guard with the 730th Area Support Medical Company, from 2011-2017, as a wheeled vehicle mechanic. Kaleb enjoys hunting and being outdoors, as well as spending time with family and friends.
Deputy Shannon Kymala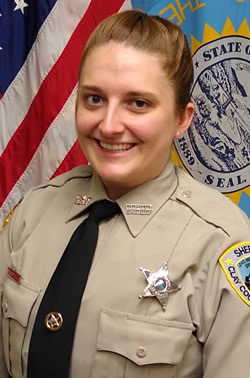 Deputy Shannon Kymala has been with the Clay County Sheriff's Office since August, 2018. Prior to becoming a deputy she was a Correctional Officer with the Union County Sheriff's Office for 3 years. Shannon is from the Black Hills of South Dakota and began to study at the University of South Dakota in 2012 after graduating from Sturgis Brown High School. In May of 2017, she graduated with a Bachelor of Science in Criminal Justice and Psychology. She is also a member of the U.S. Naval Reserves since September, 2014. In her time off she enjoys being outdoors, traveling, and spending time with friends and family. Contact Deputy Kymala at skymala@claysheriff.org
Deputy Kyle Huber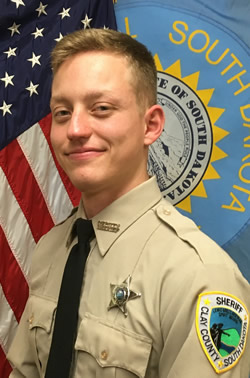 Deputy Kyle Huber has been in law enforcement since 2018 and started with the Clay County Sheriff's Office in 2021. Prior to that he was the police officer for Tripp, SD for two and a half years. He received an associate's degree in law enforcement from Lake Area Tech. He has been enlisted in the South Dakota Army National Guard as a truck driver since 2013, and is still currently serving. In his free time, he enjoys hunting, fishing, and spending time with his family.